Explore The World with Virtual Travel
First of its kind online platform that will live stream some of the most popular tourist destinations around the globe, for a 'travel from home' experience, like nothing before.
Learn More
Virtual Travel is the world's first online platform that will live stream some of the most popular, stunning, and breathtaking destinations from around the globe, for an entertaining and educational experience.
We are bringing the world's most beautiful destinations from Europe, America, Asia, Africa, and other parts of the world to your computer screen. Our platform will make it possible for you to watch and enjoy the major tourist centers, from the comfort of your home, fostering an era of "tourism from home".
The Covid-19 pandemic has given all of us a strong message that "Nothing is permanent". It has made us all realize that we can't take our amenities, privileges, and anything else for granted. While a lot of us were making travel plans for 2020, the pandemic has put a complete halt on everything, forcing us to be confined in our homes. We can't help but acknowledge the uncertainty of the situation, and the time it may take for everything to become normal including the travel situation.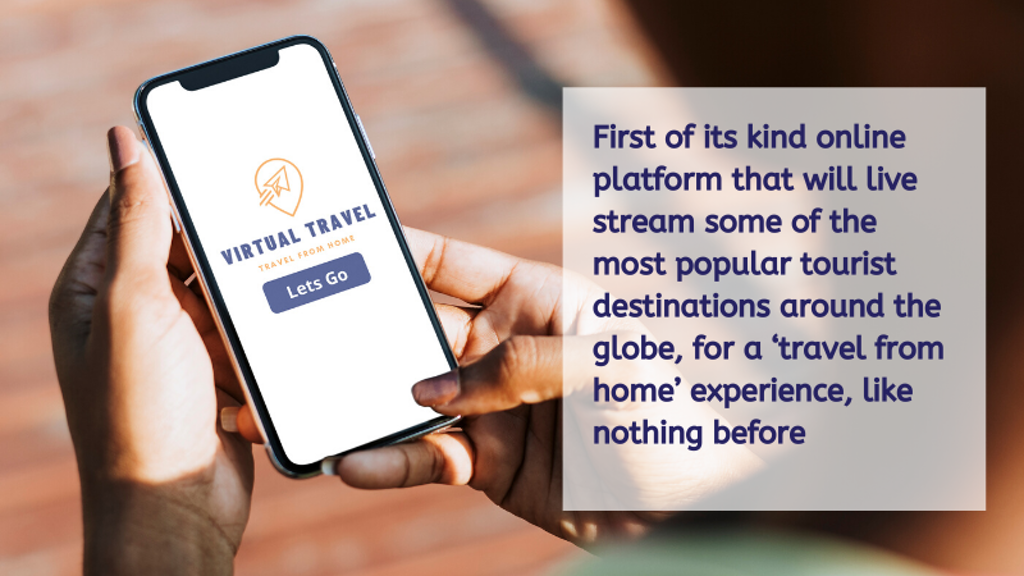 Virtual Travel is making it possible to experience the world destinations, Live, from the comfort of your home. It is the best option you have to experience travel currently, and even when the world becomes normal, our platform will remain an impeccable way for you to see the most amazing tourist spots live from your home.
Why we need Virtual Travel?
It is estimated that global revenue for the travel and tourism industry will drop by 17 percent in 2020, with Asia forecast to see the gravest overall decrease in revenue, as well as the highest employment loss in the entire industry.
 While the long-term economic damage caused by the COVID-19 pandemic cannot fully be assessed yet, the standstill of public life is already affecting not only tourism but also a long list of other industries such as the restaurant business, retail, and the event industry. This tough blowout to different industries will affect the financial abilities of people, eventually influencing their travel choices. People will look for a way to experience travel affordably and this is when Virtual Travel comes to light. 
We are doing our best to adapt to the situation. We have learned to Work from home, Cook from home, Workout from home, and now it's time for us to experience "Tourism from home".
Adults: Make an informed decision about your next travel plans by getting a hands-on, live experience of how a tourist spot looks like in real-time. No internet article, V-log, or a cinematic video about a tourist spot will give you the most reliable information about a place than our platform!
Kids: Allow your kids to experience the world destinations from their computer screen, and learn about various places and famous spots in the most visually entertaining manner. Our platform is setting a new benchmark in terms of providing knowledge about travel destinations, which is incomparable to what any textbook or website tells you!
Everyone else: Our platform is for anyone who is not able to travel due to any reason, such as age, health issues, financial or time constraints, etc. Get onboard our website to get a visual experience of your favorite destinations, like never before.
Virtual Travel is the world's first online platform that will live stream some of the most popular, stunning, and breathtaking destinations from around the globe, for an entertaining and educational experience.
Virtual Travel has partnered with over 300 tour companies and activities worldwide, providing them with equipment to daily live stream.
We are bringing the world closer by live streaming of major tourist centers across the globe at a less costly and affordable price. The customers would be notified through all forms of social media advertisements about the time when we will go live and the tourist centers that we will premiere.
Virtual Travel makes life easier, better, and safer for you by bringing your loved tourist centers closer to you while saving you huge traveling costs, feeding costs, hotel costs, and so on. It will also eliminate the risk involved in traveling such as accidents, and so on.
At Virtual Travel, our mission is to change the world by building the best live travel broadcasting platform and community sharing travel video experience created by our growing community where creators and communities can bring effective knowledge together safely. To achieve this goal, we ask that all users participate in such a way that promotes a friendly, positive experience for our global community by changing the way people consume, interact with and create live video. Connecting great guides with virtual travelers.
To be an independent, innovative, honest, and sustainable tourism video live streaming company in the world. In other words, to be a model company and a reference in the tourism and live streaming sector.
Be the first to stream a scene live when we premiere and keep updated on our progress.